"The most important part of the body is the brain. Of my face, I like the eyebrows and eyes. Aside from that, I like nothing." Frida Kahlo
A forehead lift or "brow lift" is a procedure that restores a more youthful, refreshed look to the area above the eyes. Brow lift improves signs of aging by smoothing frown lines, wrinkles and expression lines on your forehead and by repositioning sagging eyebrows that cause hooding of the upper eyelids. It has the ultimate effect of creating a more aesthetically ideal upper facial region. The brow lift is frequently combined with facelift surgery and/or eyelid surgery but may equally be carried out as an isolated procedure.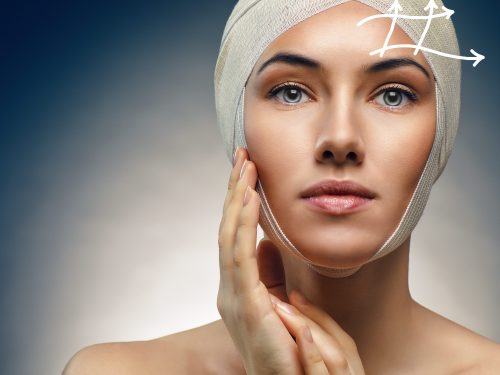 Brow lift

 SURGERY – FACTS
Length of surgery

2 

hours

Anaesthesia

General

anaesthetic

Hospital stay
1 night
Risks/complications of surgery

Frequent: Bruising, swelling, temporary numbness and/or headaches

Infrequent: Infection, unsightly scarring, asymmetry, bleeding (haematoma), numbness to the front of the scalp, nerve injury 1:100), asymmetry to the forehead, bald spots at incision sites usually temporary, relapse

Recovery

5 days until socialising with close friends and family
1 week until return to work and normal social engagements with make up
2 weeks until swelling and bruising disappears
4-6 weeks until return to gym and other strenuous activities
3-6 months until final result – scars continue to improve over the next 12 months.

Driving
2-3 weeks
Sleeping position
Sleep on your back if possible with 3-4 pillows for first 7-10 nights
Follow up

1

week,

6

weeks,

3

months,

6

months

Long term issues
Some numbness over the scalp
DOWNLOAD FURTHER INFORMATION 
Brow Lift
Any plastic surgery procedure is a very personal choice and understandably there are a number of questions that arise. This information sheet is a general guide for patients considering a brow lift under the care of Dr Mackenzie. It should provide the answers to some questions that you may have.
Brow lift introduction
The orbital region is of primary importance of facial aesthetics and expression. The eyebrow represents the upper frame of the eyes, and its shape and position convey youthfulness and attractiveness.
The angry, sad, stressed appearance that is created by drooping eyebrows causes many women and men to feel self-conscious. Patients say that they attract unwelcome comments about being tired or worried from acquaintances and colleagues at work and are unhappy about the frown lines on the forehead and between the eyebrows. This is often a cause of significant distress and results in a request for a consultation to discuss rejuvenation of the upper half of the face.
An approximate idea of what can be achieved will be gained by placing the palms of your hands at the outer edges of your eyes above the eyebrows and drawing the skin gently upward to raise both the brow and forehead area.
Who is a good candidate for a brow lift?
It is most common for people in their forties and fifties to have this procedure, but it may be performed on much younger people who may have inherited heavy, droopy eyebrows and fullness in the upper eyelids.
Most people have the operation to get rid of the overhanging folds at the outer half of the upper eyelids and the heavy droop of the eyebrows. Because we all age differently, depending on whether we are men or women and on the characteristics, we inherit, even young people may experience this problem. However, brow lift surgery can address these issues by restoring a more youthful and pleasing brow shape and position. 
The following are some common reasons why you may want to consider a brow lift:
Sagging forehead
Profound creases in the forehead and between the brows (frown lines)
Lowered eyebrows
Drooping eyelids
Heavy skin hanging low over the eyes
If you are a female and you are unable to apply makeup on the upper eyelid, because the surface area has been obscured by drooping tissues as you have aged.
If you gently lift the skin above your eyebrow into a pleasing position and it eliminates most of the excess skin in your upper eyelid, a brow lift may be right for you