Breast Augmentation
Auckland
"The difference between something good and something great is attention to detail." Charles Swindoll
Breast augmentation is a procedure performed by a plastic surgeon to increase breast size and enhance breast shape by the use of implants or lipofilling. It is beneficial for women with naturally small breasts or when their breasts have lost volume from weight loss, breast feeding, pregnancy, ageing or for those with asymmetrical sized breasts.
The ultimate goal of breast augmentation is to enhance a patient's natural proportions and create a more symmetrical, aesthetically pleasing breast profile which is long lasting. The exact procedure is tailored to meet a woman's individual needs.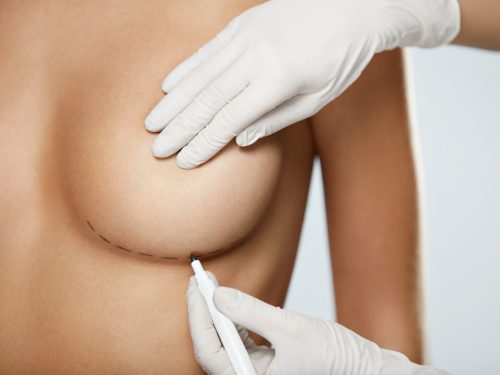 Breast

augmentation

SURGERY – FACTS
Length of surgery

1.5 – 2

hours

Anaesthesia
General anaesthetic
Hospital stay
Day surgery or 1 night
Risks/complications of surgery

Frequent: Bruising, swelling, temporary numbness

Infrequent: Infection, bleeding (haematoma), delayed wound healing, nipple necrosis, asymmetry, poor scarring, capsular contracture, rippling, implant rupture, ALCL

Recovery

5-10 days until socialising with close friends and family
2-3 weeks until return to work and normal social engagements
4-6 weeks until swelling and bruising disappears
6 weeks sports bra day and night. Wired bra after 2 months
4 weeks travel abroad
8-12 weeks until return to gym and other strenuous activities
3-6 months until final result

Driving
2 weeks
Sleeping position
Sleep on your back
Follow up
2 weeks, 6 weeks, 3 months
Duration of results
Long-lasting however implant replacement likely
DOWNLOAD FURTHER INFORMATION 
Breast Augmentation
Any plastic surgery procedure is a very personal choice and understandably there are a number of questions that arise. This information sheet is a general guide for patients considering breast augmentation under the care of Dr Mackenzie. It should provide the answers to some questions that you may have.
Breast augmentation introduction
Breast augmentation surgery increases or restores breast size using silicone gel implants or in some cases, fat transfer. It involves the placement of an implant beneath the breast tissue, either above or below the muscle.
Breast implants are used to make the breasts larger, firmer and fuller. They are available in a variety of types and sizes and their shape is either "round" in profile and base, or oval shaped with an anatomical contour. They are usually made of an outer layer of silicone, filled with cohesive silicone gel. This is a soft gel which is highly elastic with the approximate specific gravity and feel of normal breast fat. Silicone materials have "memory" ie. the shell and gel components of an implant can be stretched, and they will return to their normal state when relaxed.
Breast augmentation has a long and successful track record in satisfying women who wish to enhance, regain or restore balance to their figures. A great deal of data about the behaviour of silicone implants in the body has been gathered over the last 45 years. There is no known link between silicone implants and increased risk of breast cancer or autoimmune disease.
Breast augmentation is an elective cosmetic surgery procedure and is never deemed medically necessary. Therefore, it is essential that the patient is making the right decision– my role is to provide them with all the information they need to make an informed decision. The best outcome is achieved when we both agree that the chosen operation will achieve the goals and expectations, and that you understand and have carefully considered the potential benefit from the procedure against the possible unwanted effects and risks from it.
One aspect of breast implant surgical procedure is that patients fully understand before going ahead, is that they are making a lifelong commitment to breast surgery and will probably require a repeat procedure at some point.
What is the goal of breast augmentation?
Breast augmentation is designed to enlarge the breast and enhance the shape of the breast. Other common goals of breast augmentation include:
Restoring fullness lost after pregnancy, breastfeeding or weight loss
Enhancing cleavage
Improving figure by balancing the hips
Enhancing self image
Correcting noticeable breast asymmetry (tuberous breast deformities)