"Youth is happy because it has the capacity to see beauty. Anyone who keeps the ability to see beauty never grows old." Franz Kafka
Neck lift, also known as platysmaplasty or cervicoplasty, improves signs of aging in the neck by repositioning and reshaping loose or sagging skin and muscle, and may also reduce excess fat deposits in the neck, and beneath the chin. It enhances the appearance of the neck by tightening the skin and underlying muscles and improving the contour of the jawline. This procedure is often performed in conjunction with liposuction or a facelift but may also be done as a stand-alone procedure.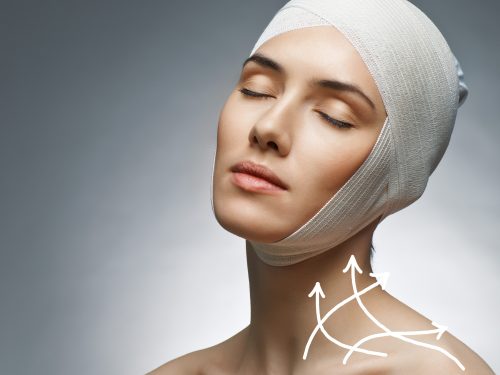 Neck Lift

 SURGERY – FACTS
Length of surgery

2-3 

hours

Anaesthesia

General

anaesthetic

Hospital stay
1 night stay
Risks/complications of surgery

Frequent: Bruising, swelling

Infrequent: Infection, unsightly scarring, asymmetry, bleeding (haematoma), permanent numbness, facial nerve injury which could cause weakness of the lower lip, ear numbness due to greater auricular nerve injury, delayed wound healing, temporary or permanent hair loss along the incisions

Recovery

5-14 days until socialising with close friends and family
2 weeks until return to work and normal social engagements with make up
3-4 weeks until swelling disappears
6 weeks until return to gym and other strenuous activities
3-6 months until final result – scars continue to improve over the next 12 months.

Driving
2-3 weeks
Sleeping position
Sleep on your back if possible with 3-4 pillows for first 7-10 nights
Follow up

1

week,

6

weeks,

3

months,

6

months

Duration of results
Recurrence of skin laxity in 5-7 years
DOWNLOAD FURTHER INFORMATION 
Neck Lift
Any plastic surgery procedure is a very personal choice and understandably there are a number of questions that arise. This information sheet is a general guide for patients considering a neck lift under the care of Dr Mackenzie. It should provide the answers to some questions that you may have.
Neck lift introduction
For people with loose sagging skin under the chin, vertical bands in the neck, "turkey wattles" or necks that are too heavy, neck lift surgery – either alone or in combination with other cosmetic procedures – can produce very gratifying results. The loss of youthful contours in the face and neck can be due to a variety of factors, including heredity, gravity, environmental conditions and stress.
Most facelifts will have a positive influence on neck contour but in some patients, when the angle between neck and chin is poor or where muscle bands are very visible (platysma bands), a platysmaplasty will be necessary. This will restore tension in the platysma muscle beneath the neck skin. It is sometimes done from behind the ear (lateral platysmaplasty) but may require an incision under the chin (anterior platysmaplasty). Very gentle fat contouring using a syringe is frequently helpful.
The quality of the result will depend upon the elasticity of the neck skin and degree of sun damage to the area. As a restorative surgery, a neck lift does not change your fundamental appearance and cannot stop the aging process.
Who is a good candidate for a neck lift?
In general, good candidates for a neck lift include:
Healthy individuals who do not have medical conditions that impair healing
Non-smokers
Individuals with a positive outlook and realistic expectations
If you have a turkey wattle that makes you look much older than your age
If you have an excess of fat and skin in your neck
If you have lost the distinct jawline
Some people feel they are not ready for a full facelift because the upper face is still pleasing. However, many patients will note excess wrinkling of the neck skin, a double chin or "turkey wattle" and jowl lines. When the neck area doesn't match the upper facial appearance, a neck lift may be a good solution.
How much does a neck lift cost in NZ?
The cost of a face and neck lift ranges between $30,000-35,000. Usually, facelift and neck lift surgeries are combined for the best result.